OptinSpot is a software specially designed for exhibiting companies.
OptinSpot simplifies and automates the process of collecting visitors contact information while visiting your booth or event.
OptinSpot provides an automated function of scanning the business card of your visitors based on Artificial Intelligence methods.
OptinSpot, the Lead Capture Tool that collects and organizes visitor data, won the GOLD Award at the Exhibitions Marketing Awards 2020
We are very proud of the GOLD award of the OptinSpot digital platform as part of the Exhibitions Marketing Awards 2020.
The awards were organized for the first year by Boussias Communications and Marketing Week and reward good practices, innovation, innovative services and expertise in the field of exhibitions.
You can download and browse the app's features as a guest user.
How did you collect your visitors contact info?
By keeping data in the traditional way (eg paper & pencil), or by collecting business cards wherever possible.
By scanning the barcode of the visitor card, if the exhibition organizer provides such a facility.
The first step after your participation in an trade show is to gather and digitize all the details of your booth visitors. A particularly laborious and time-consuming process.
OptinSpot gives the solution!
OptinSpot quickly scans the business cards of your visitors, intelligently recognizes their details and fills out the appropriate fields.
GDPR compliance by storing the digital signature of visitors for their consent to receive informational material via email.
The visitor immediately receives an email with the necessary information he has requested after completing his opt-in information while he is "hot".
OptinSpot uses state-of-the-art artificial intelligence technology and runs on any mobile devices , tablets, and Info Kiosks.
Visitor data are automatically recognized with maximum accuracy, eliminating the possibility of incorrect input or spelling mistakes.
All the data are stored in the cloud and, in case the use of the internet is not possible, offline, i.e. locally on the device itself, which automatically synchronizes them the first time it is connected to the network again.
The visitor expresses his interest in the products / services that interest him. This preference is stored for your next marketing actions.
Filling out a questionnaire to store more and targeted information of your visitors. Multiple Choice, Single Choice, Yes/No, Free Text, Rate, etc. questions
*optional
Process of the visitor's participation in a lottery and the selection of a winner in real time by OptinSpot
It greatly enhances your branding
Do you want to see OptinSpot in action and find out how your company can take off?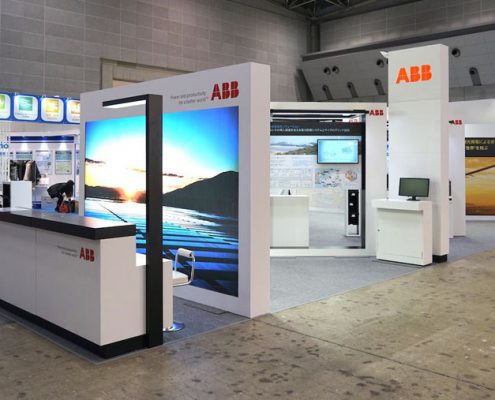 OptinSpot provided the direct sending of informative emails to ABB Hellas visitors at its offices in Athens and Thessaloniki.